click for hi-res version



click for hi-res version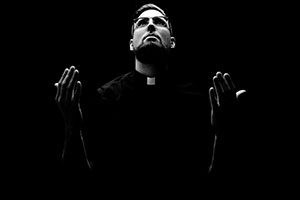 click for hi-res version
TCHAMI AND MALAA RELEASE NEW SONG "THE SERMON"
TRACK FROM FORTHCOMING EP NO REDEMPTION DUE THIS MONTH ON CONFESSION

NO REDEMPTION NORTH AMERICAN TOUR KICKS OFF NOVEMBER 10 IN LAS VEGAS

"The Sermon," the new song from French house producers Tchami and Malaa is out now. The track appears on their forthcoming collaborative EP No Redemption, out this November on Tchamith Tchami's own Confession label. Listen/share "The Sermon" here: http://smarturl.it/THESERMONSC

The Parisian artists will come together for a run of ten dates on their highly anticipated No Redemption co-headlining tour, hitting major markets across the North America. The tour will feature a brand new live production with both artists simultaneously onstage in an exciting adaptation of a back-to-back performance. See the full list of tour dates below; tickets available HERE.

Most recently, Tchami and Malaa debuted the first single, "Summer 99," from their forthcoming EP, which received critical praise from Billboard, who proclaimed, "It's a jacked-up tune to make you get low. Get caught up in your own memories, or make some new ones." The song caught the attention of numerous acclaimed artists and DJ's including Dillon Francis, Martin Garrix, Valentino Khan and DJ Snake.

Of the No Redemption collaboration, Tchami says, "We each have our own specific sound. Malaa's music embraces the early street vibe of house music from its origin in the streets of Chicago and Detroit. My sound portrays another side of the genre: positive, spiritual. This project combines the two elements and messages to represent house music as a whole while creating something new. The best of both worlds." He goes on to elaborate on the No Redemption dates saying "This tour will give fans the opportunity to see the different worlds come together quite literally in the unique production that will depict two elements, both visually and musically, on stage."

About Tchami: This summer, Tchami released his most recent EP, Revelations, on his own Confession label. The critically acclaimed EP continues to grow across platforms, garnering over 10 million streams since its release. Listen HERE via Spotify. Billboard says the EP "reveals sonic nooks of the Frenchman's repertoire that you wouldn't typically expect from him," while Dancing Astronaut raves that Tchami is "comparable to no other producer in the game right now, as every release echoes a foreign reality."

The French DJ and producer is a leader in the future house movement, which has become a widely recognizable subgenre throughout the electronic music community. He is best known for his remixes and sample-based tracks, achieving chart success in his own right with his first single, "Promesses." The track, featuring Kaleem Taylor, hails from Tchami's debut EP of the same name, which peaked at #7 on U.K. charts and garnered extensive acclaim from BBC Radio, Annie Mac and Zane Lowe. He then went on to collaborate with Stacy Barthe on the single "Missing You."

Tchami has toured extensively support for Skrillex, Diplo and DJ Snake and has played festival dates including Ultra Music Miami, Electric Daisy Carnival, HARD Summer Music Festival, Electric Zoo, Tomorrowland, Creamfields, Coachella, Firefly, Lollapalooza (US, Paris, Brazil), Spring Awakening, Electric Forest, TomorrowWorld, Beyond Wonderland and VELD Music Festival.

As the founder of the Confession Label, Tchami has created a platform to promote artists including Malaa, Mercer, AC Slater, 4B, Madskies, Dombresky, Brohug, Loge21, Angelz, Wax Motif, Dillon Nathaniel and Dustycloud, independently on a global scale.
About Malaa: DJ and producer Malaa has embraced his shrouded identity since he came onto the scene in 2015 and plays off of his anonymity in his balaclava-clad persona and regular releases of mixes on Soundcloud titled "Who Is Malaa".

Malaa began releasing music on Tchami's Confession label with his debut Illicit EP in 2016 followed by the single "Notorious." Earlier this year, Malaa released the Illegal Mixtape compilation EP in which he played a US headline tour and released a collaboration track with Dombresky on the song "Hostyl." He is also well known for remixes including "Oh Me Oh My (feat. Travis Scott, Migos & G4ish)," "Mind (feat. Kai)" for Major Lazer and Tchami's "Afterlife (feat. Stacy Barthe)."

Malaa has toured extensively along with the Pardon My French crew and has performed alongside DJ Snake, Tchami, Rezz, Mercer, and more. He's played global festivals including Ultra Music Festival, Holy Ship, Creamfields, Breakaway, HARD Summer Music Festivals, Moonrise and Spring Awakening.

For more information, please contact Samantha Tillman, Louis D'Adamio or Carla Sacks at Sacks & Co., 212.741.1000.
TCHAMI x MALAA
NO REDEMPTION TOUR DATES

November 10 /// Las Vegas, NV /// World Market Center
November 11 /// Los Angeles, CA /// The Shrine
November 17 /// Philadelphia, PA /// Electric Factory
November 18 /// Atlanta, GA /// The Tabernacle
November 24 /// Toronto, ON /// Rebel
November 25 /// Montreal, QC /// New City Gas
December 1 /// New York, NY /// Brooklyn Hangar
December 2 /// Washington, DC /// Echostage
December 8 /// Miami, FL /// The Fillmore
December 9 /// Chicago, IL /// Aragon Ballroom

Tickets available at www.confessionlabel.com/NoRedemption
Spotify: http://smarturl.it/THESERMONSPOTIFY
Apple Music: http://smarturl.it/THESERMONAPPLMUSIC
Soundcloud: http://smarturl.it/THESERMONSC
iTunes: http://smarturl.it/THESERMONITUNES
Amazon: http://smarturl.it/THESERMONAMAZON
Google: http://smarturl.it/THESERMONGOOGLE