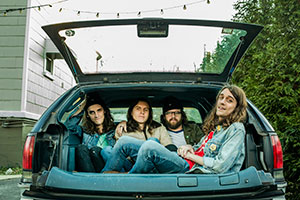 click for hi-res version



click for hi-res version
THE WEEKS' EASY OUT NOW TO CRITICAL ACCLAIM ON LIGHTNING ROD RECORDS

CURRENTLY ON U.S. HEADLINING TOUR

"Driven by rowdiness, and a mix of pride and defiance about their origins." —The Guardian

"powerful guitars and Southern-tinged vocals" —Paste
Mississippi-via-Nashville rising band The Weeks' highly anticipated new album, Easy, is out now on Lightning Rod Records— listen here. The album is receiving early critical acclaim:

"Eleven tracks of edgy, soulful, thought-provoking rocking" —American Songwriter

"The band shifts away from Southern and soul-tinged sounds to dial in on what they do really well: loud, ornery, guitar-driven rock 'n' roll." —Nashville Scene

"They're steeped in the classic components of southern rock, creating swampy songs that draw influence from the abundant soul, blues and rock 'n' roll sounds that have long coalesced in the humid air that swirls down that way." —Clash Magazine
The Weeks are currently on their North American headlining tour, including stops in Philadelphia, Nashville, Austin, Los Angeles, San Francisco, Seattle and more. See full list of tour dates below.

Easy features previously released singles, "Hands on the Radio," "Bottle Rocket," "Talk Like That" and "Gold Don't Rust," currently making waves at radio nationwide. Watch the video for "Talk Like That," directed and shot by drummer Cain Barnes, here.

The Weeks recorded Easy over the course of two weeks at Memphis, TN's Ardent Studios with producer Paul Ebersold. The band left Nashville to record in order to disassociate themselves from their everyday routines in the city, and to find a halfway point between Mississippi and Nashville. "Memphis has always been the capitol of North Mississippi to us," says guitarist Sam Williams. "We went there to be at Ardent. We knew Paul had learned everything from John Frye and John Hammond so we figured that was the spot. It's important to keep those historic studios alive and not let them become museums."

Of the record, frontman Cyle Barnes says, "We called it Easy because every time I make music with these guys, it's easy. It feels good. But the other side of it is there's nothing easy about being in a band. There's nothing easy about staying together for ten years and still wanting to make music. We have the hardest and easiest job on the planet. But it works for us."

Thematically, Easy explores new ground for the band. Bassist Damien Bone explains, "We just wanted to make a rock record. We weren't as concerned making it a southern rock record. The southern thing is always going to part of what we do."

The Weeks is twin brothers Cyle (vocals) and Cain Barnes (drums), Sam Williams (guitar/vocals) and Damien Bone (bass). Formed when its members were in high school in Jackson, Mississippi, the band self-released its debut EP Dog Days in 2006. More than ten years and a handful of critically acclaimed albums later, the band has relocated to Nashville and toured extensively worldwide with Kings of Leon, The Meat Puppets, North Mississippi Allstars, Local H and many more.

For more information, please contact Reid Kutrow, Nicole Hajjar, Krista Williams or Carla Sacks at Sacks & Co., 212.741.1000.
EASY
1. Talk Like That
2. Ike
3. Start It Up
4. Hands On The Radio
5. Bottle Rocket
6. Gold Doesn't Rust
7. Sevens
8. Blame
9. The One
10. Ain't Dancin'
11. Don't Be Sad

THE WEEKS LIVE
†with Passion Pit

April 7 /// Philadelphia, PA /// Underground Arts
April 8 /// Columbus, OH /// Basement
April 9 /// Pittsburgh, PA /// Club Café
April 13 /// Birmingham, AL /// Saturn
April 14 /// Atlanta, GA /// Earl
April 20 /// Charlotte, NC /// Visulite
April 21 /// Chattanooga, TN /// Revelry Room
April 22 /// Nashville, TN /// Cannery Ballroom
April 26 /// Hattiesburg, MS /// Dollar Box Showroom
April 27 /// Oxford, MS /// The Lyric Oxford†
April 28 /// Jackson, MS /// Martin's
April 29 /// Starkville, MS /// Rick's Café
May 2 /// Dallas, TX /// Prophet Bar
May 3 /// Austin, TX /// Antone's
May 5 /// Phoenix, AZ /// Pub Rock
May 6 /// San Diego, CA /// Soda Bar
May 9 /// Los Angeles, CA /// Roxy
May 11 /// San Francisco, CA /// Bottom of the Hill
May 13 /// Portland, OR /// Analog Theater
May 14 /// Seattle, WA /// Barboza
May 18 /// Denver, CO /// Larimer Lounge
May 19 /// Kansas City, MO /// Riot Room
May 20 /// St. Louis, MO /// Off Broadway
May 21 /// Chicago, IL /// Lincoln Hall