click for hi-res version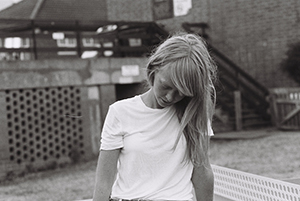 click for hi-res version

click for hi-res version
click here for Quotesheet (pdf)

LUCY ROSE'S NO WORDS LEFT LP OUT TODAY VIA ARTS & CRAFTS

VISUAL COMPANION TO THE FULL RECORD STREAMING NOW
"delicate, beautiful... melancholy in a way that feels relatable and raw" –Associated Press

"lyrically, she's at her best" –NME

"the best work of her career" –Q Magazine

U.K.-based artist Lucy Rose's new album, No Words Left, is out today via Arts & Crafts; purchase/stream the record HERE and watch the visual companion HERE. "It's not a collection of songs, but an album which describes a certain time in my life and the feelings that went with it," Rose explains. "It's perfectly captured me being me, and for the first time in my life I feel comfortable seeing it."

No Words Left is Lucy's most disarmingly honest record to date. An intimate, raw, and beautiful collection of songs, it represents Lucy at her most beguiling and unguarded, frank and direct. It's a record largely informed by an incredibly difficult twelve months of self-reflection, disenchantment and apathy, that Lucy barely recalls even writing but her strength and prowess for creating such captivating, folk-imbued songcraft shines through emphatically.

"Releasing this record feels entirely different to every other record I've released. But to try and sum up my emotions is virtually impossible," Rose explains. "In every way I've approached writing, recording and now releasing music, it's been different. I've lost all consciousness in caring and it's been liberating. It is what it is. It's a feeling, it's a song, it's a sound, it's a part of me which I can't decipher whether it's good or bad, but it's sincere." Rose continues, "This album reflects the reality of my life, the toughness life throws at you, and for a period of time it did become too much for me to handle alone."

Billboard recently premiered the video for album track "Treat Me Like A Woman," which Rose wrote "after a combination of events which pushed me to think about the way people interact with me purely based on my gender…this isn't a song aimed at men, it's a conversation that everyone needs to have with themselves. Have I ever judged a woman differently than a man?" Watch the video and read the full piece HERE.

Along with extensive European and Canadian tour dates, Rose performs in Los Angeles on May 29 at Hotel Café; additional information and tickets are HERE.

The new album comes on the heels of Rose's 2017 LP Something's Changing, which received extensive critical praise and saw Rose traveling across Ecuador, Peru, Chile, Argentina, Paraguay, Uruguay, Brazil and Mexico, playing free shows and staying with fans, with Rose's husband Will Morris documenting the entire experience.

For more information, please contact Samantha Tillman, Kate Rakvic or Carla Sacks at Sacks & Co., 212.741.1000.
LUCY ROSE LIVE

April 9 /// Union Chapel /// London, UK
April 10 /// St. Georges /// Bristol, UK
April 11 /// Gate /// Cardiff, UK
April 13 /// Stoller Hall /// Manchester, UK
April 14 /// Liberty Hall /// Dublin, IE
April 16 /// City Varieties /// Leeds, UK
April 17 /// St. Lukes /// Glasgow, UK
May 3 /// Kulturkirche /// Cologne, DE
May 4 /// AB Club /// Brussels, BE
May 6 /// Tempodrom Kleine Arena /// Berlin, DE
May 7 /// Nochtspeicher /// Hamburg, DE
May 8 /// Zonnehuis /// Amsterdam, NL
May 9 /// Café De La Danse /// Paris, FR
May 29 /// Hotel Café /// Los Angeles, CA
July 11-14 /// Winnipeg Folk Festival /// Winnipeg, MB
July 16 /// Commonwealth Bar & Stage /// Calgary, AB
July 17 /// Starlite /// Edmonton, AB