PRESS RELEASES
October 6, 2023 / VIEW
September 6, 2023 / VIEW
August 25, 2023 / VIEW


photo credit: Mario Luna / click for hi-res version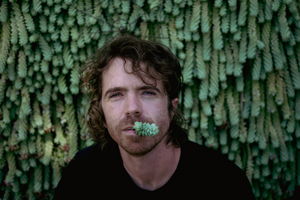 photo credit: Mario Luna / click for hi-res version


album artwork / click for hi-res version

click here for Artist Notes


RISING ARTIST HANK MAY'S NEW ALBUM TAILS OUT NOW

NEW TRACK AND VIDEO "RAINY DAY" DEBUTS

TICKETS ON-SALE FOR KNITTING FACTORY HEADLINE SHOW ON NOVEMBER 16
October 6, 2023—Tails, the highly-anticipated new album from rising LA-based singer-songwriter and producer Hank May, is out today via Dangerbird Records—get it here. A new track, "Rainy Day" also debuts today alongside a video May created using an AI generator—watch here.

"The main thing separating my second album from my first album is that I had the privilege of working with a producer, the great Jon Joseph," May says. "I knew when I started the demo process that I would have a budget to work with (thanks to the kind folks at Dangerbird) so I didn't limit myself to the garage rock sound of my first album. I reached for new sounds and textures and rhythms and took risks because I knew I would be entering the studio with a seasoned professional who could take what I had roughly designed and turn it into something legitimately good. I think we came together and made something special, and I could never have done it on my own."

"I used an AI video generator to make this video," May says about "Rainy Day." "The program is called Pika Labs which is still in beta so it's free to use for now. You feed a prompt to a bot on a discord server and it sends you back a 3-4 second video clip. The prompt I used was: 'cinematic, medium close-up shot, so&so running down the street toward the camera, crying, rain falling, Los Angeles, noir, twilight zone style.' Since these videos generators are all brand new, they do incredible things but extremely sloppily. I love that about them, so I wanted to make something with them while they're still new and spitting out such absurd, unpredictable results."

Additionally, May confirms a headlining album release show at Knitting Factory in North Hollywood on November 16—get tickets here. May recently wrapped a three-week residency at Hotel Café in Los Angeles, where he curated lineups of local talent and headlined each night.

Tails features previously shared singles "Life Is Sweet"—which premiered via Paste who praised it as "a groovy pop track coated in a candy folk gloss" that "lives up to its own title, with an earworm melody and a sharp modernity"—and "I'm Just A Lover Now."

Much of Tails came to fruition whilst May was wandering the streets of Los Angeles, spending time with friends and absorbing even the smallest of details around him. "I put my antennae up pretty high for this one," he details. Where his debut album One More Taste of the Good Stuff found May more in the indie singer-songwriter space, Tails explores multiple genres. May and his good friend and collaborator Patrick Taylor were able to experiment together in May's home studio. "I intentionally set out to make a pop record with intricate arrangements and was thinking of this as a playlist more so than a narrative album," May notes. Tails follows the releases of his debut album, One More Taste of the Good Stuff, which was released in 2021 to critical praise:

"Both introspective and observational of the world's absurdity, May's songwriting paints a vivid world while letting us into the crevices of his psyche."—Flood

"dark humor, quirky melodies, and [an] observational style"—Under The Radar

"With his premier album, One More Taste of the Good Stuff, Hank May offers an open wound, a blunt diary entry, of the transformative world that has colored his work."—Atwood Magazine

"May proves himself to be a contender on his debut, bringing to mind visionaries like David Berman and Conor Oberst, in his ability to bring us right into the room where the song is taking place." —Treble

"Introspective and folksy, rarely simple and always riveting."—The Aquarian Weekly

For more information, please contact Kate Rakvic, Ethan Jacobs, Samantha Tillman or Carla Sacks at Sacks & Co., 212.741.1000.
Tails—Tracklist
1. Rainy Day
2. Life Is Sweet
3. Aliens R US
4. (Don't Fear) The Narcissist
5. Pot of Beans
6. Can't Let A Damn Thing Go
7. Morgana
8. Wild West
9. Safe for Chruch
!0. I'm Just A Lover Now